Personalised Silver Jewellery
All of our personalised silver jewellery is crafted from 99.9% pure silver or sterling silver. You can capture any detail you want and carry it with you forever.
Children's drawing, writing, messages etc need to be written in black felt tip pen on white paper, once this is done you can either post it or email to us at info@castamemory.com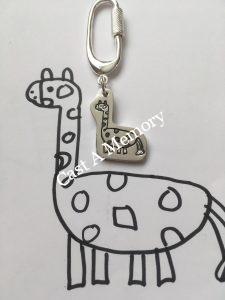 Transform your child masterpiece into pure silver, a perfect gift for mum or dad.
(Simple line drawings work best in black pen but the drawing can be photocopied black instead, you can either email or post a copy to us. Prices are based on size of charm, Tiny £40 to XL £65, Bespoke shape vary depending on size and shape, just ring us on 01787 383555 or email info@castamemory.com for more details.)
How to order
Option 1 – If you require a fingerprint, hand/foot or paw print, you can make an appointment at our studio where we will take the prints. Once the item is made you can collect or have it posted.
Option 2 – If you live further away we can send out the ink, once you have taken the prints decide what you would like, return the prints to us with payment (cheque or online bank transfer) once made you can either collect or have it posted.
Price List
You can either have a charm on it's own or add a bracelet or necklace or turn it into a keyring
Charms
Tiny Charm – square, heart, rectangle ,circle, oval
£40
Small Charm – circle, square, rectangle, oval, heart
£45
Medium Charm – Heart Only
£50
Large Charm – heart, oval, circle, square, rectangle
£55
Split in half heart Charm (names only)
£60
Charm Bracelets
More Bracelets available, please ask for details
Men/Womens leather bracelets
From £10
Circle link bracelet
£30
Curb Padlock Bracelet
£40
3mm Snake Bracelet
£30
Rada bracelet
£30
Silver Necklaces (18″)
Box Chain Necklace
£20
Curb Chain
£20
1.9mm Snake Chain Necklace
£25
Prince Of Wales Chain Necklace
£20
Belcher Chain
£20
Oval Belcher Necklace
£30
Childrens Christening Bracelets
ID Bracelet
£20
Baby Bangle
£25
Cufflinks
Thick Round Cufflinks (Fits a fingerprint or Hand & Foot)
£105
Thick Square Cufflinks (Fits fingerprint or a Hand & Foot or Hand & Name)
£120
Keyrings (Round, Heart, Square, Rectangular, Oval)
Large Keyring
£80
XL Keyring
£85