Baby and Child Hand and Feet Life Castings
Based in Essex – With over 11 years experience.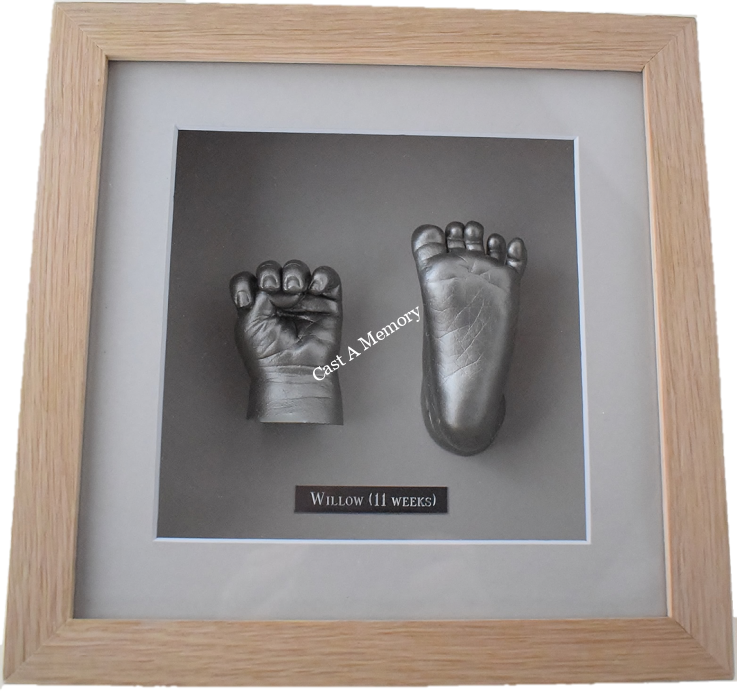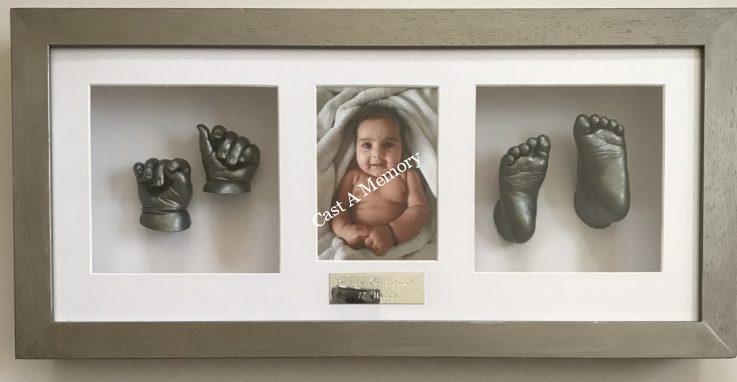 Baby hand and feet casting are like no other keepsake. With 3d hand castings every details is captured from the small fingernail to the tiny creases and skin pores. It really is a unique gift which you can treasure forever. New baby life casts are beautiful as they help you to remember how small your child was when they have grown older. We offer gift vouchers which are very popular for christenings, baptism, baby showers or for your partner. Various options are available.
Life casting is not just for newborn babies but we offer castings for toddlers, adults and family if you can't find what you are looking for, please contact us. For more information on family hand casts click here. http://www.castamemory.com/products/family-hand-cast/
Why Choose Cast A Memory ?
Cast A Memory have been producing baby hand and foot casts for over 11 years !!! Casting is all about experience, every child & baby are different and it takes a lot of practice to get it right. We also design our own solid oak frames, each length of oak is sent away to be moulded, which in turn produces a solid oak frame up to 80mm. A lot of other products have a cardboard back on them, you can guarantee ours will last a lifetime and are truly unique.
Call us on 01797 383555 to discuss your requirements or email info@castamemory.com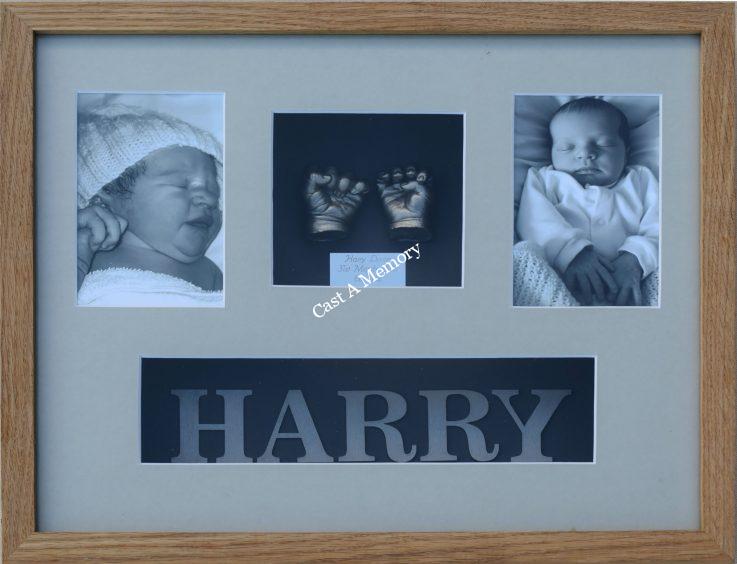 Baby Hand and Foot Life Cast
Framed with 2 Photo
£165.00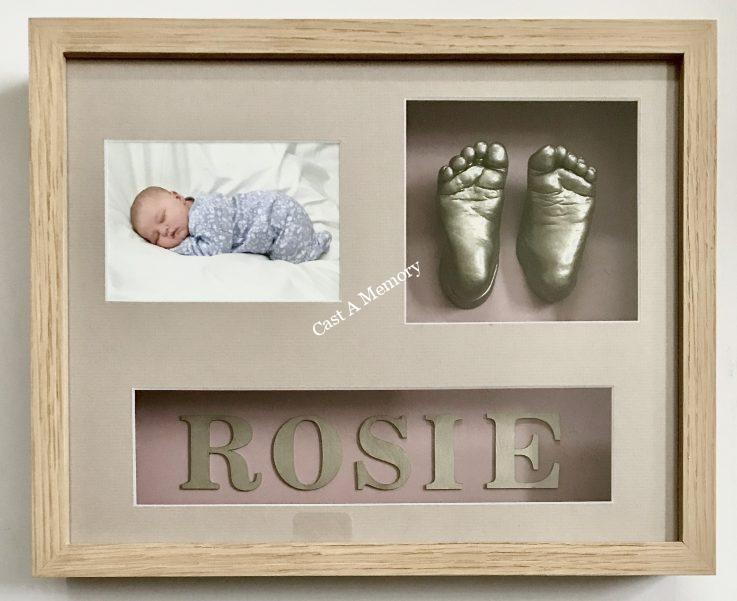 Baby Hand And Foot Life cast with one photo £145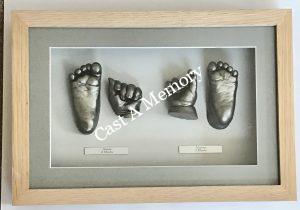 Life Casting replicates details as small as finger prints and pores, which capture the body like no other at form, giving you the highest level f realism. Time goes too quickly, so it's a wonderful way of recording that special moment forever
Handmade Box Frames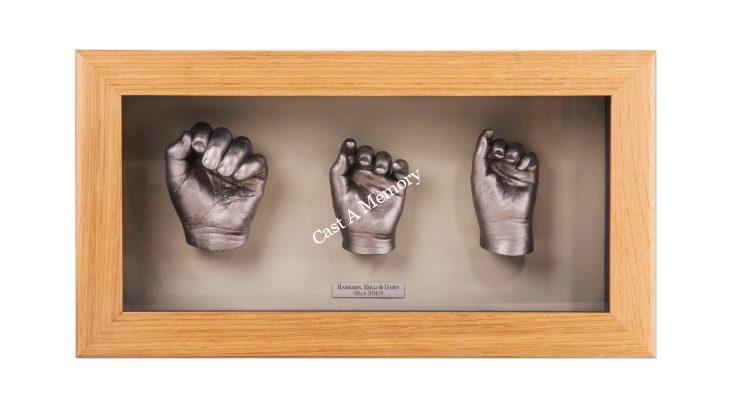 Family Hand Casting of Three Siblings £195


Each box frame is individually made to ensure the perfect fit. Various colour options are available as standard. If we do not have what you are looking for, we can order in most frame mouldings at an additional charge
Prices for framed cast
Family Hand Cast on Wooden Base
Family Hand Cast Prices
The Process
On arrival we will discuss styles, colour's and materials. Then explain the casting process which is actually quite quick.
We will then mix the casting material and pour into the container. Your hand/foot will then place your foot or hand into the material and wait for it to set, which is around 1 minute. The hand needs to be held still for a few seconds whilst the mixture turns, This is achieve by distraction if you happen to have a wiggly child.
We will then release your hand/foot from the mould by applying gentle pressure.
A keepsake that can be treasured and enjoyed forever, a truly unique way to create a memorial heirloom, which can be passed on for generation
When booking for a child/baby, please bear in mind their meal times and sleep times, as the experience will be more enjoyable if your child is happy. Sometimes it can help to give your baby a feed whilst casting takes place, as this offers a good distraction. Generally speaking foot castings tend to be easier than hand castings.
How Long Does it Take?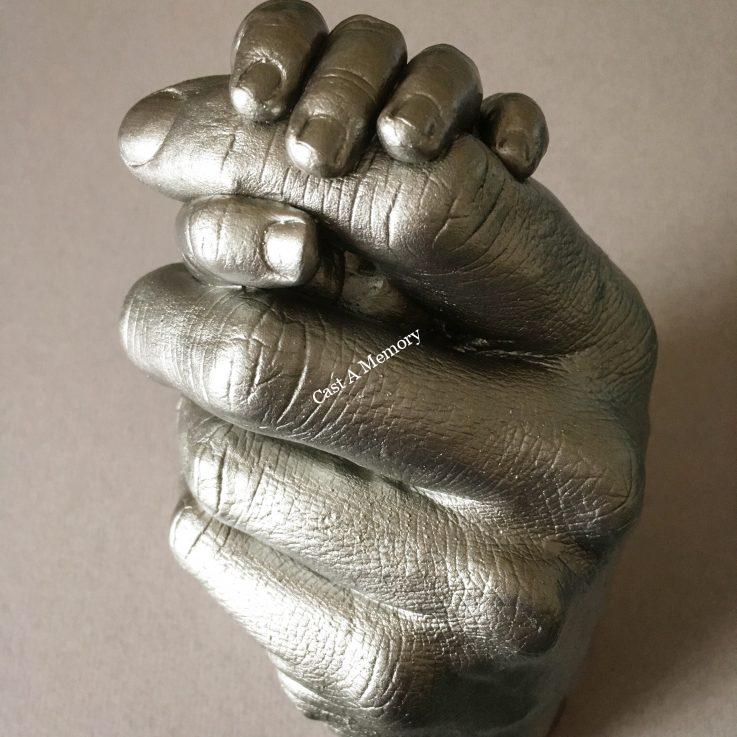 Appointment time: 30 minutes to 1.5 hours (depending on number of castings)
Processing time: normally 2 – 4 weeks