Family Hand Cast – Life Casting – Couple Hand Cast.
With over 10 years experience, at Cast A Memory you are guaranteed a beautiful hand cast of your family. A keepsake that can be treasured and enjoyed forever, a truly unique way to create a memorial heirloom, which can be passed on for generation. Each Family, couple or parent and child hand cast is painted in a colour of your choice and mounted on a solid Oak based, which can also be stained if required.
If you would like to surprise a partner, parent with a 3d hand cast, we can send you a gift voucher and you can arrange a time when suitable.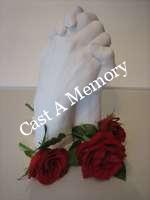 Wedding Gift
A unique and timeless wedding gift, this captures the union of two people perfectly, forever. This can also be extended up to 6 people to make a beautiful family cast.
Anniversary Gift
An original anniversary gift, give your better half a gift that echoes your unchanging commitment to each other.
Wedding Centre Piece
A cast of the bride's and groom's hands locked together will make an elegant statement on your big day, make it a centre piece on the head table.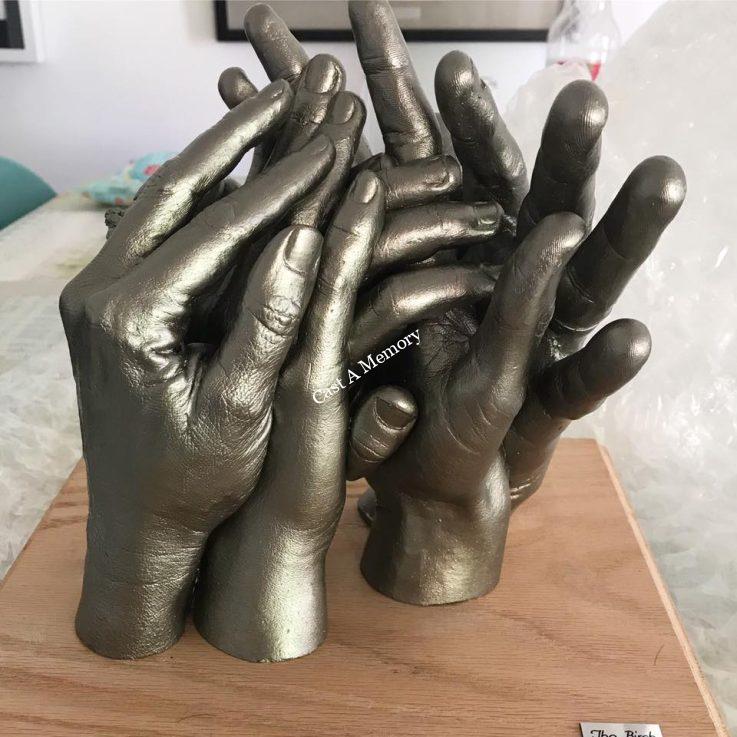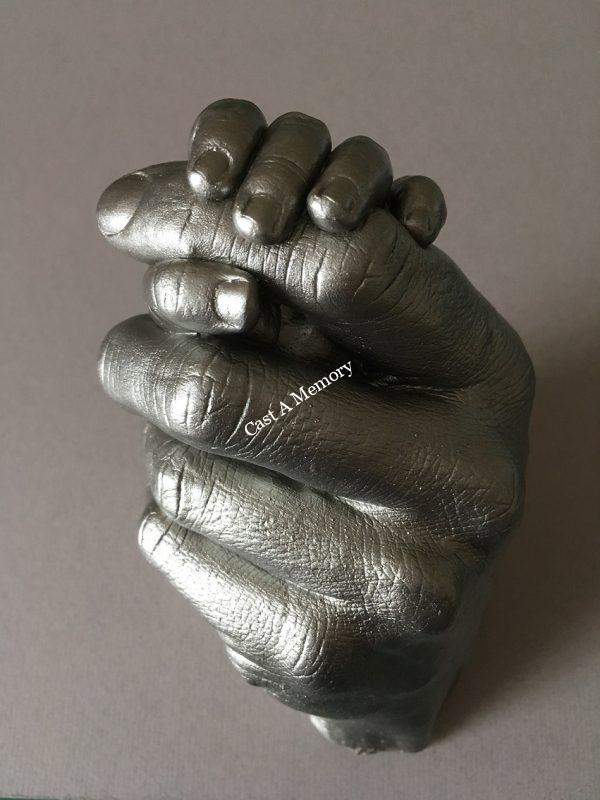 Prices
Parent & Child £105
2 adult hands £115
3 hand cast (2 adults, 1 child) £140
4 Hand cast (2 adults, 2 children) £180 – SPECIAL PRICE £165
5 hand cast (2 adults, 3 children) £220 – SPECIAL PRICE £195
6 hand cast (2 adults, 4 children) £245 – SPECIAL PRICE £225
Prices include a wooden base, engraving is £6
When booking for a child/baby, please bear in mind their meal times and sleep times, as the experience will be more enjoyable if your child is happy. Sometimes it can help to give your baby a feed whilst casting takes place, as this offers a good distraction. Generally speaking foot castings tend to be easier than hand castings.
The Process
On arrival you will be given all the different options, which include engraving plates, type of wood, finish.
The actual life casting process is very quick, you will be asked to place your hands in a container which will be filled with mixture (a bit like cold custard) and held in there for about 1-2 minutes. After this time the mixture will set hard.
After the setting time, your hands will be slowly released from the mixture, leaving a mould for us to cast.
How Long Does it Take?
Appointment time: around 30 minutes
Processing time: normally 2 – 4 weeks