Baby shoe framing – Essex Keepsakes Service
We can deliver to the whole of the uk, for more information please feel free to contact us to discuss your requirements, all frames are custom made.
Have your baby's first shoes framed in a beautiful solid Oak handmade frame. All frames are custom made to fit your babies 1st shoes, a very special keepsake to treasure.
Having your baby's shoes framed is a lovely way to remind you of the time when your child amazed you with their first few steps or their tiny little baby feet, there's nothing else so cute as your baby wiggling their little toes. As they get older they move on to countless amazing things, and they continue to surprise you and make you proud, but it is easy to let these earliest memories fade.
Baby's 1st shoes framed prices £45 + Postage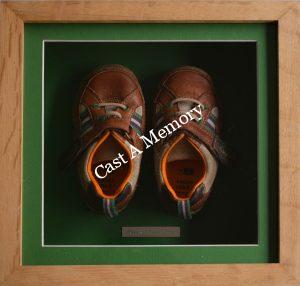 Baby shoe framing is an original way to connect to those memories, through something more real than just a photograph, but that you can still hang on your wall to remind you every day that your big grown-up kids were once the tiniest, most astonishing things you had ever seen.
Beautifully framed in solid oak
Or we stock black, white and anthracite frames. Fully lined in a mountboard colour of your choice.
Multiple pairs
Frame made to any size

Engraving optional for £6
If you enclose your email address and contact number along with any particular colours you like, ie. pastel, bold, shabby chic, We will then send you a few photos by email. Alternatively we can select a few colours which best match your shoes. Please feel free to contact us to discuss your requirements. You can either order over the website ( bottom of the page or by phone or email. Payment can be collected after the shoes have been received either by paypal or email.
You can either drop your shoes into the business premises or send them by post to:
Cast A Memory,
Greathouse,
The Street,
Essex, CO9 2NS.
Once the shoes have been received, We will contact you to discuss colour options, Once agreed we will frame them and then contact you to discuss postage option or whether you wish to collect. Postage is £7 which will be collected by paypal or bank transfer on completion.