Beautiful 3D Hand and Foot Life Casting
Life casting is for all ages, New baby life casts are beautiful as they help you to remember how small your child was when they have grown older but equally an elderly couple holding hands (anniversary hands) is also something of pure beauty as is a family cast, a perfect way to record that special moment in time.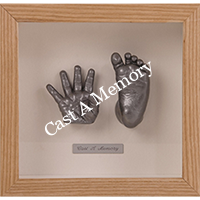 Baby Hand and Foot
Life Cast Framed
£115.00
Life casting replicates details as small as finger prints and pores, which capture the body like no other art form, giving you the highest level of realism. Time goes quickly, so it's a wonderful way of recording that special moment forever.
Handmade Box Frames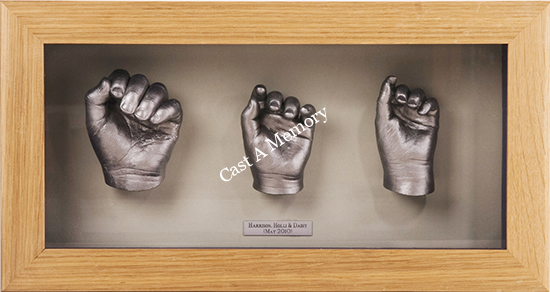 Family Hand Casting of Three Siblings
£180.00
Each box frame is individually made, to ensure a perfect fit. There is a choice of American white oak, oak stained brown, white oak and oak stained black. The frames are solid and range in depth from 60mm to 75mm,  The perfect addition to any room.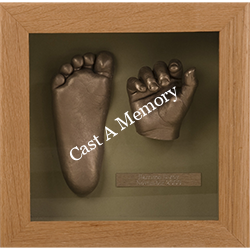 3 Year Old Hand and Foot Cast
£140.00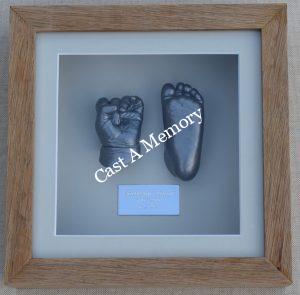 New Baby Hand Cast
£115.00
On arrival you will be given all the different options, which include engraving plates, wood base/frame, type of wood, mountboard colour.
The actual life casting process is very quick, you will be asked to place your hand/foot in a container which will be filled with mixture (a bit like cold custard) and held in there for about 1-2 minutes. After this time the mixture will set hard.
After the setting time, your hand/foot will be slowly released from the mixture, leaving a mould for us to cast.
When booking for a child/baby, please bear in mind their meal times and sleep times, as the experience will be more enjoyable if your child is happy. Sometimes it can help to give your baby a feed whilst casting takes place, as this offers a good distraction. Generally speaking foot castings tend to be easier than hand castings.
How Long Does it Take?
Appointment time: 30 minutes to 1.5 hours (depending on number of castings)
Processing time: normally 2 – 4 weeks