Baby's First Shoes
Your baby's first shoes are very special. They remind you of a time when your child could amaze you like nothing else just by wiggling a toe.
As they get older they move on to countless amazing things, and they continue to surprise you and make you proud, but it is easy to let these earliest memories fade.
Framed baby shoes prices from £45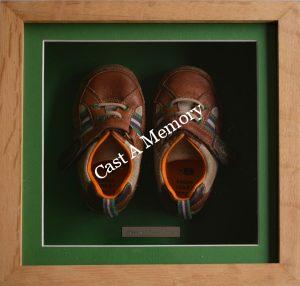 This is an original way to connect to those memories, through something more real than just a photograph, but that you can still hang on your wall to remind you every day that your big grown-up kids were once the tiniest, most astonishing things you had ever seen.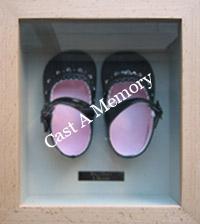 Beautifully framed in solid oak
Stained brown, black, white or left natural. Fully lined in Cream, Blue, Pink, or Green Mountboard.
Larger shoe sizes available
Multiple pairs
Frame made to any size
Engraving optional for £6
You can either drop your shoes into the business premises or send them by post to:Cast A Memory,
Greathouse,
The Street,
Essex, CO9 2NS.Once the shoes are received, I will frame them and send them back to you using a courier.