Animal Paw Prints in clay or silver
The perfect gift for any cat or dog lover, our animal paw prints preserve an impression of your pet's paw prints forever.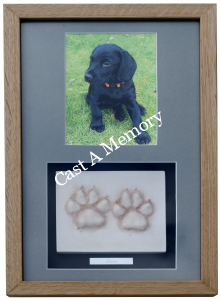 Paw Prints with Photo Framed in Oak
£85.00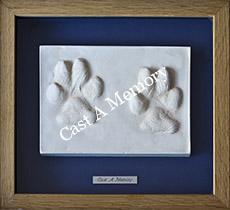 Paw Prints Framed in Oak
£65.00
Each printed tile is mounted in a hand made glazed frame of your choice including ash, oak, silver, white, black and dark stained wood and is fully lined with a colour mountboard of your choice.
Paw Print Impressions £65
Cat & Dog paw prints £90 (2 separate Tiles)
2 Dogs paw prints £90 (2 separate Tiles)
Dog/cat Paw Print Impressions with Photo £85
Dog Paw Print Impressions with Collar £80
Paw Print Impressions with Photo & Collar £100
All prices include 2 paw prints (engraving is an extra £6)
Pet Memorial Box
We also provide a service for animals that are unwell or have recently passed away. For a small charge I can travel to your vet's and take your animal prints. The paw prints can either be framed on their own (like samples above) or can be mounted in a frame with your pet's collar or/ and photo. This option is only available locally to Pebmarsh Essex CO9 2NS. Please let your vet and us know as soon as you can so we can organise to take the prints for you, we can also take prints for jewellery too. Once you have contacted us a call out charge will be payable before the prints are taken, this ranges from £20 – £30 depending on location. This will be advised on contact.
To pay the call out charge on line you can click here.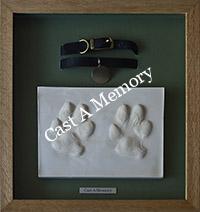 Large Dog with Collar
£80.00
Silver Printed Jewellery
Crafted from 99.9% pure solid silver or sterling silver, these are a perfect way to keep your companion close to you forever. We can either send out the ink so you can take your animals paw print in the comfort of your own home or you can visit our studio where we will take them for you. Charms start from £40 ore details and option can be found on the personalized jewellery page.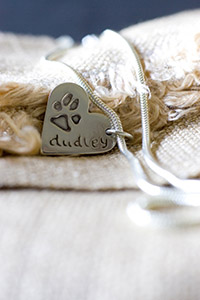 Medium Paw Print Necklace with snake chain
£75.00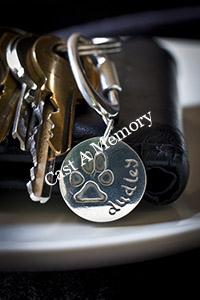 Paw Print Keyring
£80.00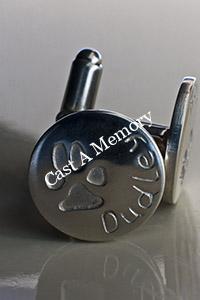 Paw Print Cufflinks
£95.00 thin (as picture) thick £105
Feel free to bring a muzzle if you feel this would be appropriate.